Are you working from home? If so, you should definitely read this blog post.
ITV Employees were surveyed with Five key questions on how they adapted to working from home during the COVID-19 lockdown.
Working from home is becoming the norm for many since the beginning of the pandemic. This is business-as-usual for some but a significant change for many who are accustomed to reporting to the office daily. ITV surveyed several employees to share our collective experience in dealing with the new norm of work.
#1. What challenges have you experienced in balancing being a colleague, a spouse, a parent, a teacher, and any other roles at the same time?
Home used to be a place to just relax and unwind. The additional features of being the place for work, study, and many other functions have impacted the dynamic of being home. Many of us have family members to take care of. The sudden responsibility of being a work colleague, a caregiver, and other roles at the same time can be overwhelming and stressful.
One suggested practice is to set up a structure to manage the expectations and boundaries while working at home. Making the schedule visible in the house allows each family member to see what others are working on and when to engage. Also sharing house chores among the family members can reduce the stress on the main caregiver.
#2. How do you set up a secure "office space" at home?
ITV is known for providing Secure Mobility solutions to our clients, and security is in everything we do. Working from home removes the usual cybersecurity measures that are in place in our normal work environment. Our employees have suggested some tactics to improve security measures while working remotely.
Use approved secure videoconferencing software for communication

Use a Virtual Private Network (VPN) especially when using a public network

Apply strong passwords on routers and devices at home

Apply MAC address filtering

Change passwords frequently

Use a Password Manager

Ensure antivirus definitions are kept up to date
Whether we continue to work from home or return to the office in the future, these recommendations are good practices to keep the cyber environment safe while away from the office.
#3. What are some things you would improve about your home office space?
The stay-at-home order came so fast and many of us were not prepared to work from home full-time. Here are some ideas that the team came up with to ease the transition into working remotely.
A dedicated workspace away from other activities

A dry-erase board

A printer

A computer that can support videoconferencing

A noise-canceling headset or earphones
#4. What are the challenges of collaborating with colleagues and clients?
One of the biggest challenges is to learn the "in's and out's" of the colleagues and clients to establish a new cadence. To stay in sync with work, several teams have started a daily 15-minute check-in to share work and life topics. The check-ins include work colleagues, clients, and partners.
These quick tag-ups are often conducted with a camera on providing a personal touch in the cyber workspace. A word of caution though – keep these daily check-ins short to avoid "Zoom fatigue."
Move longer conversations to another time to keep the team focused. Also, using phone calls and text messages for ad-hoc conversations is common but be prepared that people may not be able to respond immediately.
Staying in touch with gratitude is important. Building collective confidence that we are moving forward is critical, especially when we are working apart.
To support the employees through this transitional period, ITV provided each employee with a customized Success Kit with stationery, apparel, and a check to purchase much-needed Personal Protection Equipment (PPE).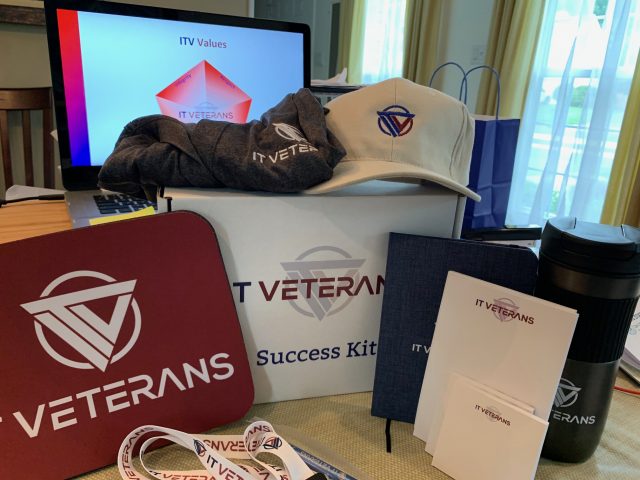 ITV also hosted a few "open-mic" sessions, inviting the whole company to have an opportunity to see each other "face-to-face" and share our experiences.
Different from the past all-hands meetings, the agendas were tailored to the employees working from home. We also scheduled the talks at the end of the day to give people a moment to wrap up the workday with a fresh conversation different from their daily tasks.
ITV understands the transition from going-into-the-office to working-from-home is not simply changing the place of work.
This is a complete change in how we work, and ITV is in full support of our employees finding new modes of operation.
#5. What do you do to reach work/life balance while working from home?
Many of us have found a spike of interest in domestic projects such as yard work, cooking, house renovations, etc.
Spending quality time with the family is another popular choice while working from home. It has been a refreshing experience to learn about the people in our coworker's lives.
Occasional changes in the scenery, like taking a meeting outside, can also keep things fresh.
Finally, carving out individual time to read, exercise, paint, or anything you like is critical in keeping a balance while dealing with the daily grind.
The transition to work-from-home has been an interesting journey for the employees, clients, our corporate office, and anyone who is involved.
ITV believes in putting people in the center of everything we do, and we are learning and growing as challenges persist.
What we do…
We provide Secure Mobility, IT Infrastructure, and Budget Management services to Federal Government agencies. If you are interested in learning more about the opportunities we have, please visit our career site.